Pre-order now to save 7% (discounted price shown).
Regular price
$837.00 USD
Regular price
$902.00 USD
Sale price
$837.00 USD
Unit price
per
Sale
Sold out
A full copper water block that cools both your GPU and CPU, ideal for small form factor builds
The MonoBlock's inlet and outlet pipes can be customized upon request. Need them shorter, longer, or with some bends in? Get in touch for a quote.
Pre-order only. Orders placed now are estimated to be delivered before the end of 2023. You are entitled to a full refund at any time.
Scroll down to discover more
View full details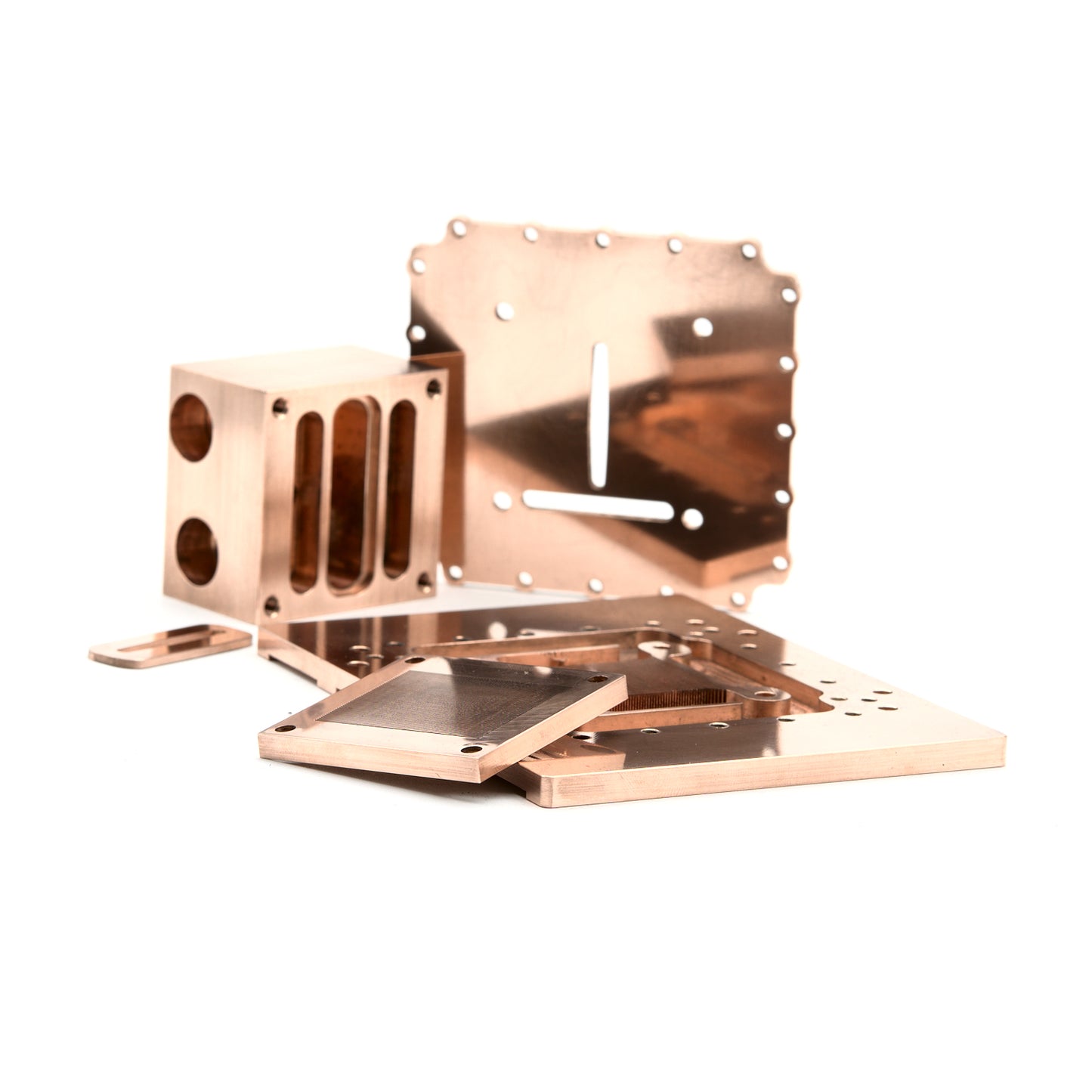 Product Details
Packaging Contents

MonoBlock
Motherboard Mounting Bracket
Pre-Cut Thermal Pads
Thermal Paste
Fittings and Standoffs
Full Copper GPU Backplate

This product contains everything you'll need to mount the MonoBlock to both your motherboard and graphics card.

Technical Specifications

Materials: Pure Copper body, pipes and cold plates with threaded brass fittings

Dimensions: L 132mm x H 47mm x W 101mm (W 117mm including pipes and fittings)

Weight: 2.4kg / 5.3lb

Fittings: 2 x G1/4"

Gaskets: Oil-paper

CPU Coldplate: Flat (works with all CPUs; for peak performance, consider lapping your CPU)

Ram Clearance: 45mm

VRM Clearance: 25mm (some motherboard VRM heatsinks may require modification to fit)

GPU Plate: Active cooling on the GPU Die, RAM and VRMs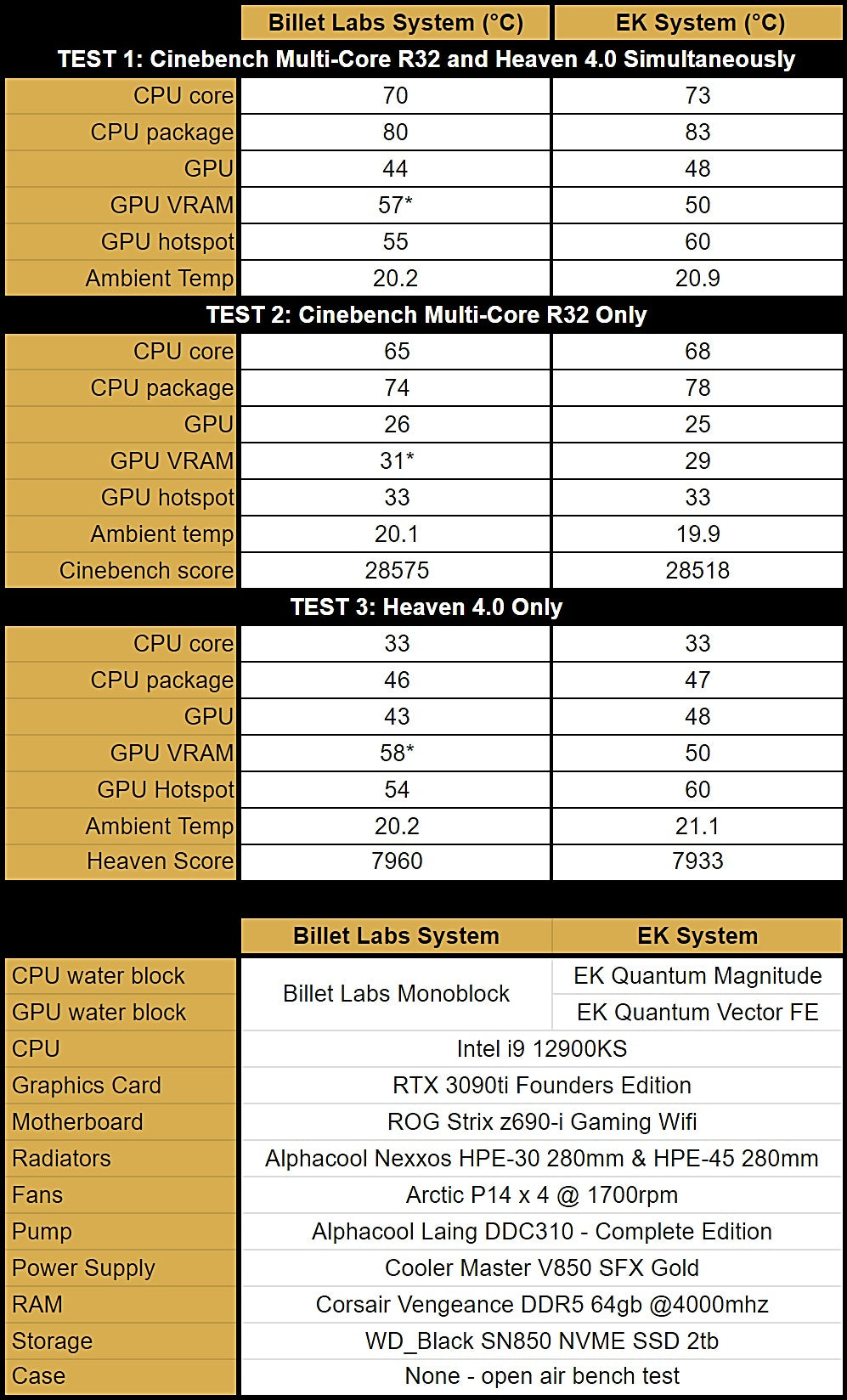 Temperature Data
Consistently cooler than the competition
**(The recent video by Linus Tech Tips shows a 4090 graphics card mounted to a 3090ti MonoBlock. We love LTT and enjoyed the video, but the temperature data shown in that video and in the pinned comment is completely inaccurate - the GPU was at an angle to the Monoblock due to the mis-matched graphics card / block, so had very poor thermal contact).**
-
In a side-by-side test against EK's top of the line Quantum water blocks, the Billet Labs Monoblock maintained temperatures 3°C lower than EK's system, with all other parts remaining identical.
We also performed a full synthetic load test simultaneously on the CPU and GPU for 5 hours, and the temperatures remained the same throughout.
*The VRAM temperatures on our test were high, but we have since adjusted the thermal pad thickness and positioning to bring that down by around 6°C. We have not yet done another full side by side test against EK, but as soon as we have, we will publish the data here.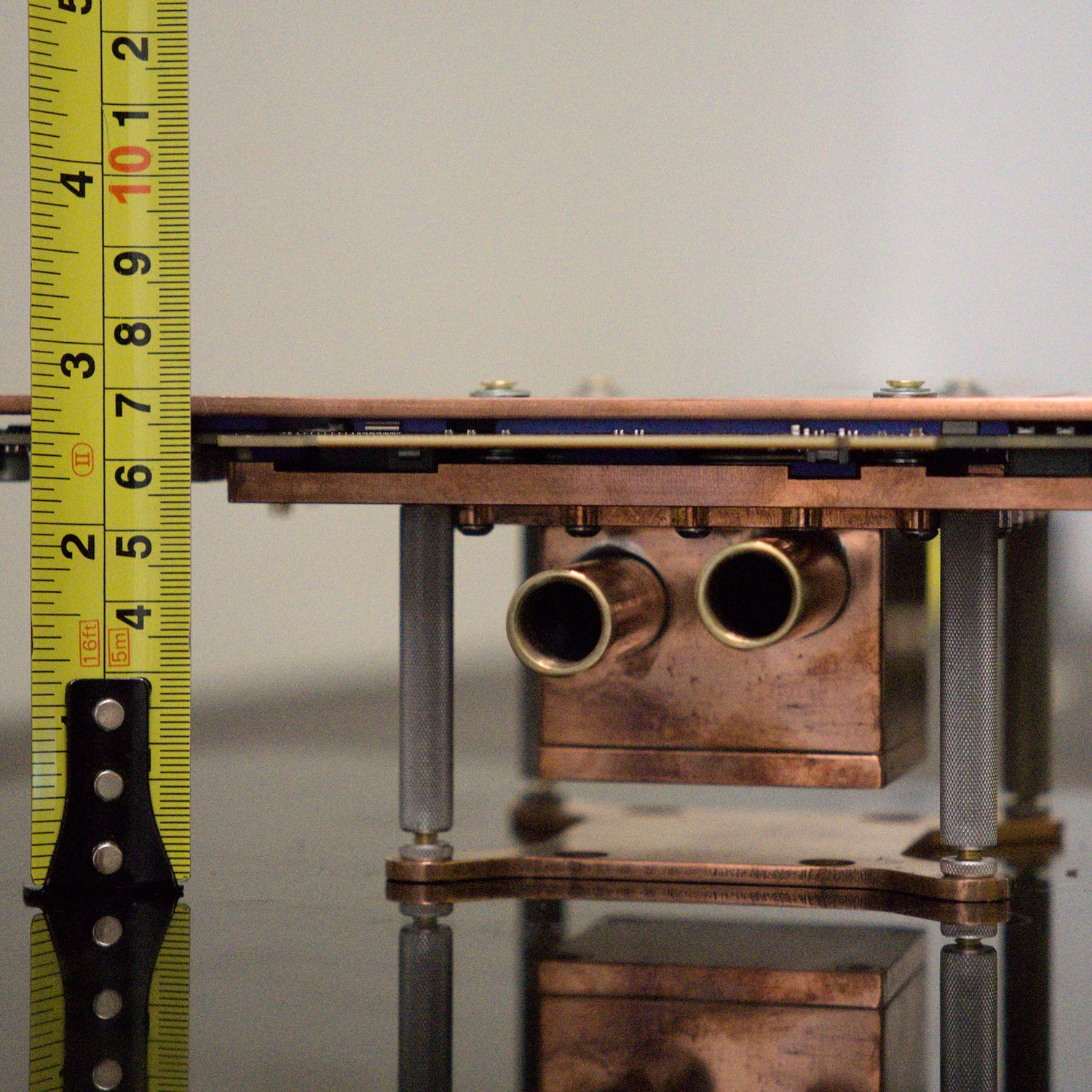 Smart Packaging for Power-Dense Builds
There has never been a product that allows a fully watercooled CPU and graphics card in such a tight package as the Billet Labs MonoBlock. This takes the place of your CPU and graphics card water blocks, as well as all fittings and tubing between them. The bottom of the motherboard standoffs to the top of the graphics card fits entirely within a 70mm space, giving you the flexibility to create some of the most powerful home PCs within an absurdly small volume. This is the dawn of a new era for small form factor ITX builds.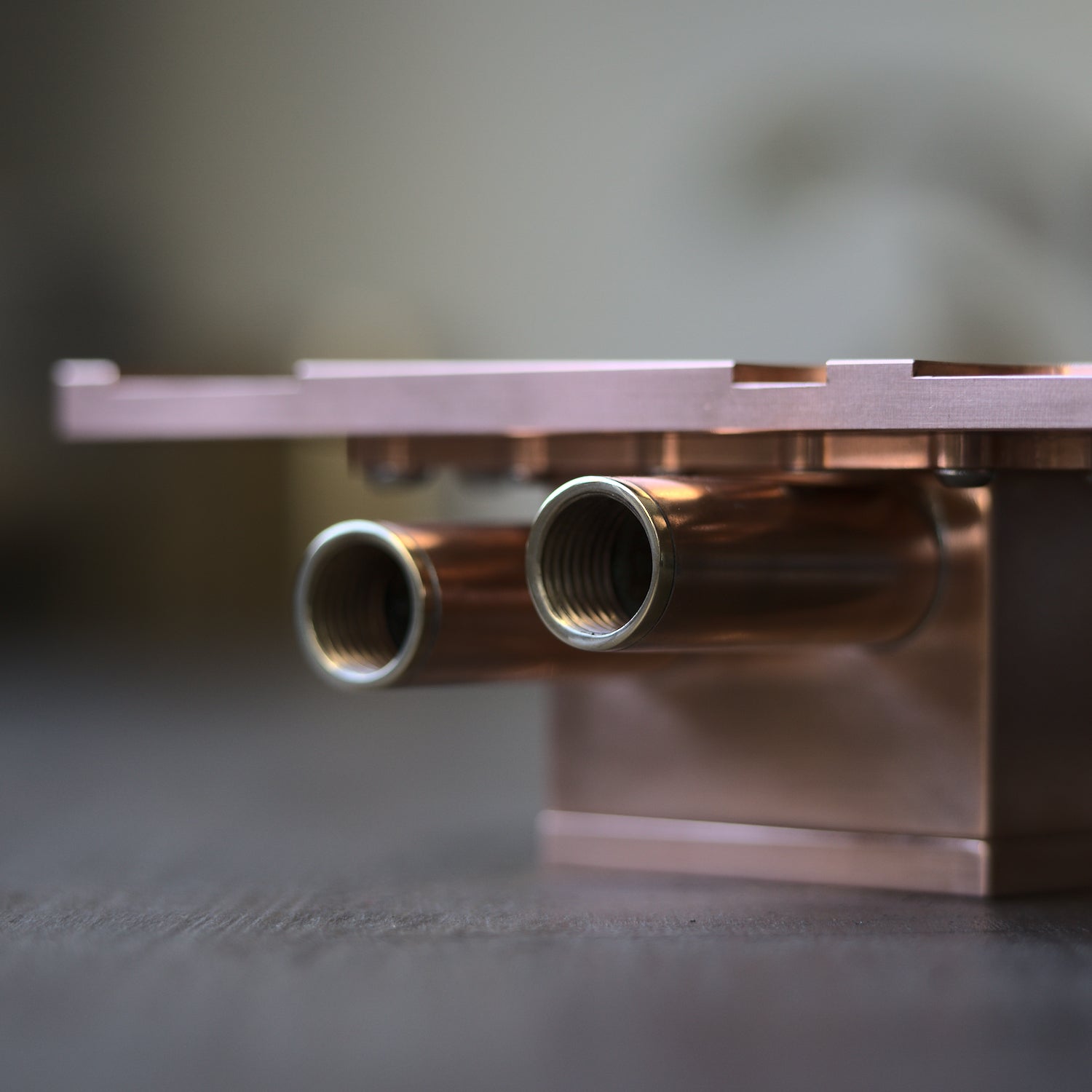 Full Copper Construction
The Billet Labs MonoBlock is machined entirely from pure copper, so even the centre of it is constantly being actively cooled by flowing water. We've even machined cooling fins and rough surfaces into parts that are nowhere near the CPU and GPU, just to create turbulence to pull as much heat out as we possibly can. The huge thermal mass also wicks additional heat away from the CPU/GPU during temperature spikes, something that is only possible with this block layout. The MonoBlock has the potential to cool your PC like nothing else on the market.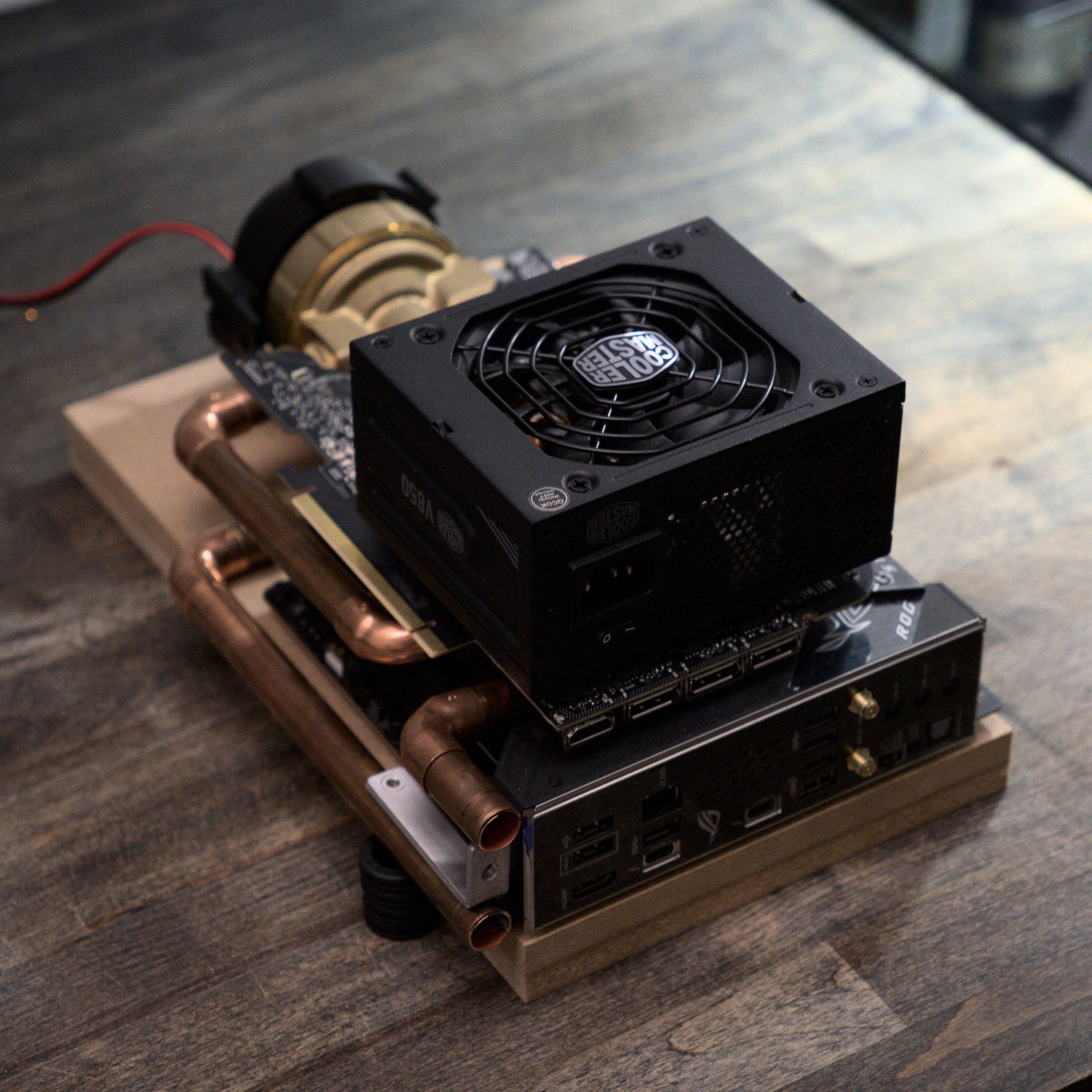 Rigid GPU Mounting
Have you ever installed a graphics card that feels well attached to the case and doesn't wobble? Neither have we. But with this layout, the graphics card screws directly to the top of the MonoBlock using 4 screws, which is screwed directly to the motherboard using our own included bracket and fitting kit, giving the entire assembly unparalleled rigidity - there is absolutely no movement once the card is mounted. Because of this, the MonoBlock creates the ideal setup for custom cases, as the entire assembly mounts to a single flat surface just using the motherboard's original standoffs.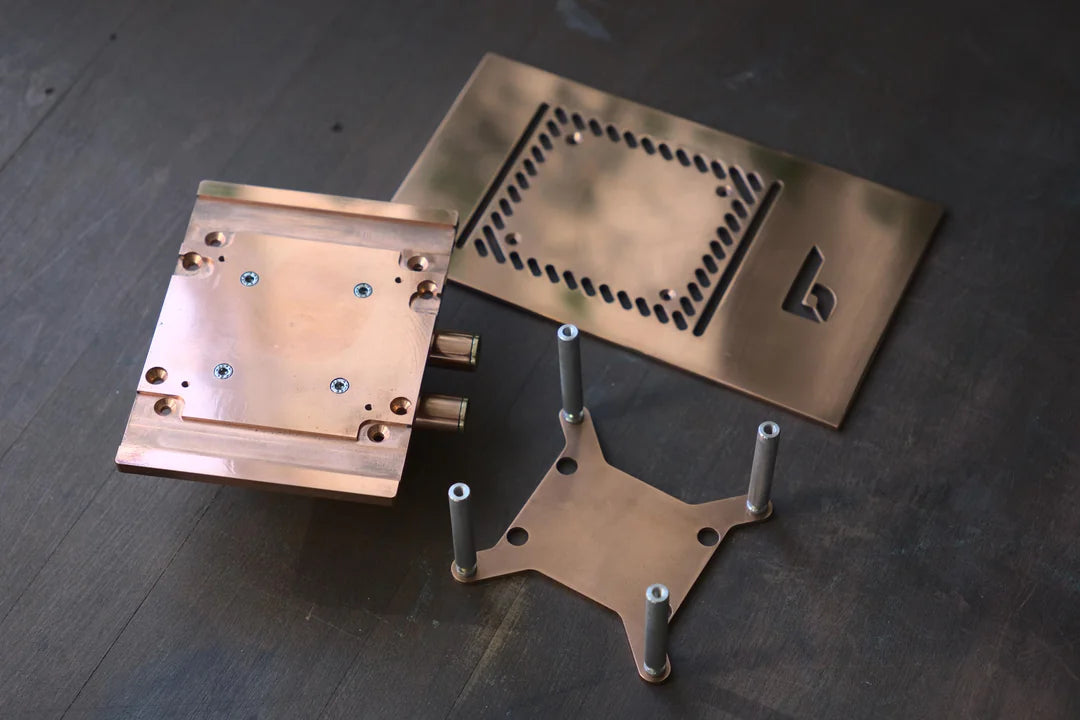 Futureproof, Modular, and Upgradeable
MonoBlock comes with either an Intel or an AMD fitting bracket, so if you've bought the Intel version, you simply need to buy the AMD fitting kit to swap it onto an AMD board in future. The graphics card plate is specific to each card, but the fitting to the block is standardised, so you can continue to use your MonoBlock for years to come by simply updating the graphics card side as and when new cards are released. We also offer replacement gasket sets, so the block can be disassembled and rebuilt at home for those who like to service and clean out their water blocks.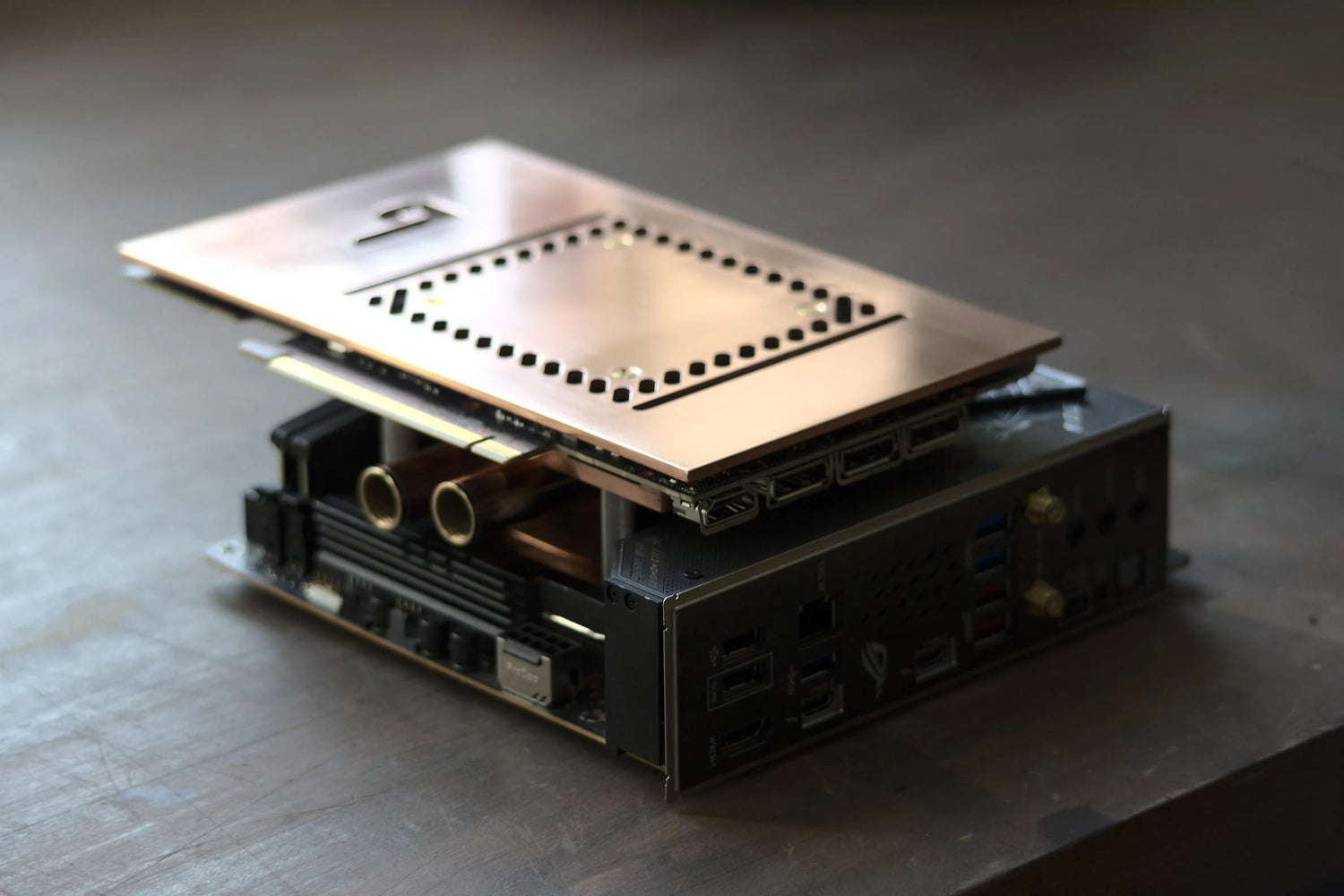 Redefining custom SFF cases
Billet Labs truly believes that this is the dawn of a new age for small form factor PC builds. As our hobby grows and more tinkerers and enthusiasts find ways to make PCs smaller and smaller, we are constantly impressed by the ingenuity of the SFF community. We cannot wait for you to show us what can be done with the MonoBlock. From tiny cases and slick custom loops, to entire rigs built inside retro consoles - this is the new standard for high-end, high-powered, tiny PCs.